Our Vision for Volunteering
Our passionate volunteers help us to empower young people in a variety of meaningful ways. From frontline fundraising, to cooking up a storm in our cooking classes; from sitting on the board of trustees, to standing in as Goalkeeper on the football pitch; from coaching in the boxing ring, to just having a meaningful conversation with a young person – our volunteers really do cover all the bases! 
We really believe in the value of volunteering. Our volunteers are integral to our success and truly are part of the team. We encourage our staff and volunteers to work collaboratively to enrich the lives of the young people we serve, as best we can. 
Volunteers bring a wide range of unique skills, experiences and expertise to the table. We recognise that this directly benefits our Youth Zones and strengthens us as an organisation at the forefront of first class youth work. We couldn't do it all without our volunteers and we wouldn't want to either! 
Our mission is to create truly meaningful, well supported volunteer roles that directly or indirectly enrich the lives of young people. We want every volunteer to know how their contribution is affecting real change for the young people within their community.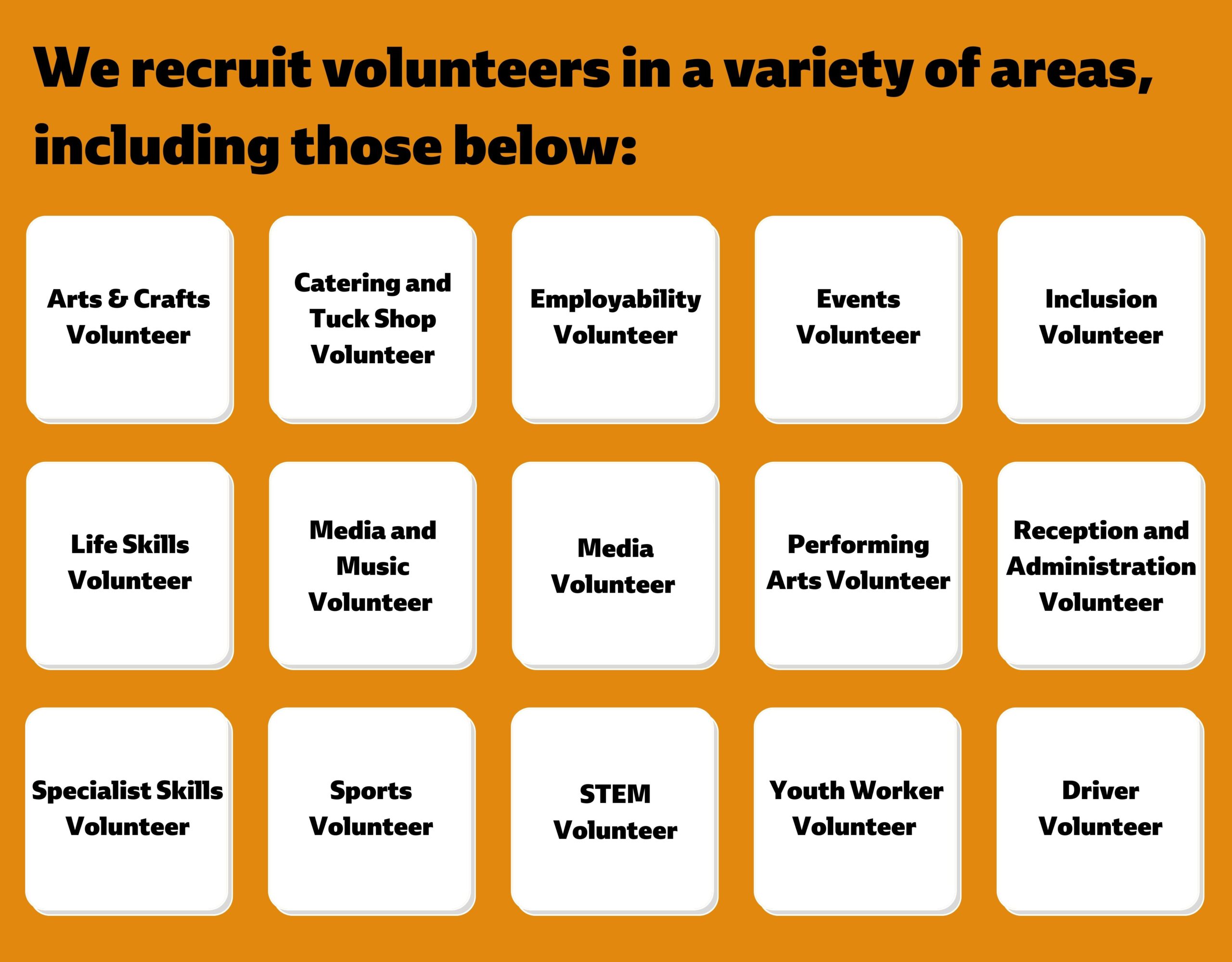 Click here to see the volunteering roles we are currently recruiting for.
When you volunteer at a Youth Zone, there are so many things you can get involved in; frontline fundraising, cooking up a storm in our cooking classes, sitting on the board of trustees, standing in as goalkeeper on the football pitch, training in the boxing ring or simply being a listening ear and having meaningful conversations with members. Whatever the activity, everyone has their own journey and reasons why they volunteer, but here are just a few of the benefits of getting involved:
GET BACK INTO WORK
It's a great way to get a reference and fill gaps in your work experience. You can also try out different types of work to get a taster – which can really help you if you're looking for a job or want to change direction.
IMPROVE YOUR CONFIDENCE
You'll learn and do things that you might not normally get the chance to – this can be a real confidence boost.
MEET NEW PEOPLE
You'll probably meet people from different cultures and backgrounds that you might not normally. Volunteering with people who are as passionate about improving the opportunities for you people, as you are, is a great way to meet like-minded people.
GIVE YOUR CV A BOOST
Time Bank recently did a survey of some of the UK's leading businesses and 73%* said they'd employ someone who's volunteered over someone who hasn't.
Our Commitment to our Volunteers
HideOut Youth Zone is committed to ensuring that all of our volunteers have the necessary support to fulfil their role. This includes: 
Ensuring that all volunteers understand their role and the difference the role makes to the lives of young people

 

Recognising the contributions of our volunteers

 

Recognising the expansive skill set and valuable experiences of our volunteers and making use of these where possible

 

Providing access to the relevant policies and information for volunteers to perform their role effectively

 

Proving training and ongoing guidance for our volunteers to perform their role confidently 

 

Assigning each volunteer a main contact, who will support them through their time volunteering with us

 

Continually investing in our volunteering programme to make sure it is in line with best practice and meeting the needs of the young people who use our youth zone

 

Where possible and appropriate, including volunteers in conversations about the future of the organisation

 

Ensuring that all legitimate expenses are reimbursed in a timely manner

 

Ensuring that our volunteers are covered by our public liability insurance

 

Ensuring that all reasonable steps are taken in order to protect the health and safety of our volunteers