HideOut Takes Part In Edward Mellor Door Step Doodle Competition
Edward Mellor, the Greater Manchester multi-branch estate agency have recently supported HideOut Youth Zone members through a personalised art competition that will showcase young people's artwork on Edward Mellor 'For Sale' boards over the Summer.
What is Door Step Doodles?
Edward Mellor Door Step Doodles was a creative design competition that challenged young people from HideOut Youth Zone to put their own creative stamps on future Edward Mellor For Sale Boards. The Edward Mellor team provided A3 templates for the young people to draw onto and they encouraged entries to be as creative and bold as possible, using lots of colour and summer inspiration. The final boards will be unique pieces of art, that make people look and smile, whilst bringing a feeling of community spirit around the local area.
Here are some winners that are going to be representing HideOut Youth Zone: Amelia, Caroline, Liam & Zafira's! Their designs were crafted in our incredible arts room here at HideOut Youth Zone with help from our fantastic supportive youth workers. The designs will start to appear across areas of East Manchester from the 26th July until 31st August.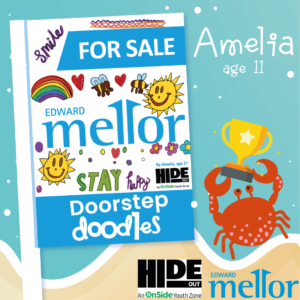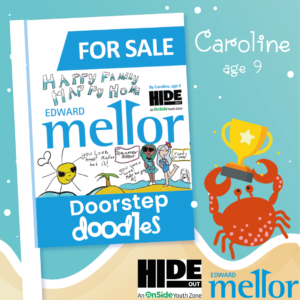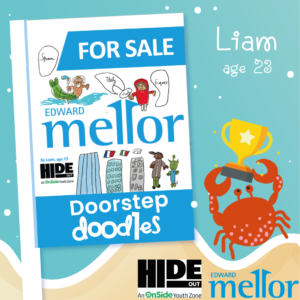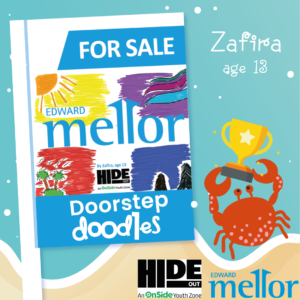 Richard Driffield of HideOut Zone commented "Our members really enjoyed taking part in the competition with Edward Mellor, especially as they will get to see their artwork on actual For Sale Boards in the local community. I know there are going to be some amazing and creative designs.! It's also a great opportunity for us to promote HideOut across the local community and raise awareness of our vital work"
Sue Brennan, Head of Marketing for Edward Mellor commented "We enjoy supporting many local communities across Greater Manchester, Stockport and Tameside. After what has been a challenging year for so many people, we wanted to create a fun and interactive summer campaign that centered around our local communities. The designs the children came up with are fantastic. HideOut offers children and young people such great opportunities and support, it provides a safe environment for meeting up, playing, and learning. The HideOut Zone is so inspiring and is such a wonderful place to be for the children."