ATPI signs up to support HideOut Youth Zone.
Tuesday 15th March saw the announcement of global business leader in travel and events management, ATPI, as the latest organisation to commit support to Manchester's young people by becoming a Founder Patron of HideOut Youth Zone.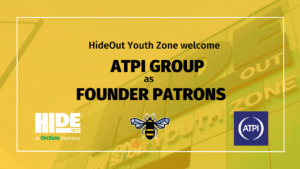 HideOut Youth Zone is a £6.6million state-of-the-art Youth Zone that aims to provide young Mancunians with somewhere to go, something to do and someone to talk to.
Money donated by ATPI will go towards supporting young Mancunians through quality youth work, helping them develop the skills they need to overcome life's challenges, as well as develop the confidence and resilience they need to succeed.
ATPI has also committed to supporting the Youth Zone by providing work experience and mentoring opportunities for members to help them develop important enterprise skills and self-confidence.
CEO of HideOut Youth Zone, Adam Farricker said:
"We're delighted to welcome ATPI to the HideOut Youth Zone family as new Founder Patrons. The partnership will help to transform the lives of members and our local community as we continue to develop services for young people in the area.

"Our members will also benefit significantly from the knowledge and expertise ATPI can share as global leaders within their industry; we want to encourage members to dream big and achieve their goals using the support available to them".
The ATPI Group operates from 100+ offices worldwide and has successful operations in corporate travel, corporate event management, online travel technology and specialist travel management for a number of key industries, including the energy and shipping sectors, as well as sports events.
Spring 2022 will see ATPI expand its operations and presence in Manchester, moving its head office from London to a new location within the city centre.