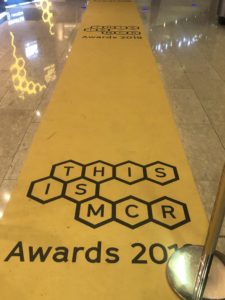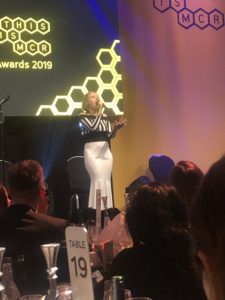 Over 400 attendees including; Sports personalities; Joe Hart, Patrice Evra, Anthony Crolla, Joe Gallagher, YouTuber; Poet. TV Personalities; Jenny Powell, Scott Thomas and Stacey Forsey. Business leaders; Umar Kamani (Pretty Little Thing), John Roberts (AO.com), Adam Kamani (Kamani Properties), Fred Done (CEO Betfred) attended TIMA on Monday 11th November.
This is Manchester Awards 2019, celebrates a very special line up of individuals and organisations, chosen for their unique contribution to the City. Awards were presented at the second This is Manchester Awards, hosted by Jenny Powell, to rising stars from the world of fashion, entertainment, sports, hospitality, technology, property, as well as those that have contributed to the betterment of the Greater Manchester community.
This is Manchester Awards is the brainchild of Ziara Siddique, MD of Elite Profile Agency and proud lifelong Mancunian. Ziara said; "The team and I once again were totally blown away by this year's entries. I'd like to pay special reference to all those amazing people and organisations making a difference in the community – they're a real representation of what makes our Great Region & City so amazing."
This Is Manchester Awards pledged their to support to becoming a Founder Patron to the latest central Manchester Youth Zone opening in Gorton in 2020, HideOut, with all monies raised throughout the evening going to HideOut Youth Zone and Foodinate.
Adam Farricker, CEO HideOut Youth Zone, said: "We are absolutely delighted to be supported by TIMA – a true celebration of everything that's special about Manchester. Without the support of Manchester's business community, HideOut Youth Zone, which will support thousands of young people from across East Manchester, simply couldn't exist."
The night was a huge success. D.I.C.E dance troupe from Bolton Lads and Girls Club opened the show to a rousing reception and there was a very special, solo performance, from Emily, a member Wigan Youth Zone, receiving a standing ovation.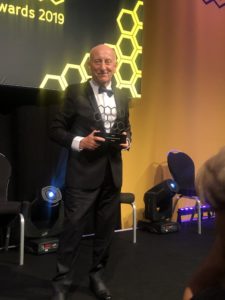 We were thrilled that the final accolade of the evening, the Supernova Award was passed on from John Roberts, founder of AO.com and OnSide Chair, to serial entrepreneur and Capital Supporter of HideOut Youth Zone – Fred Done; recognised for his immense charity work, specifically that which aims to support the young people of Greater Manchester.
OnSide Chair, John Roberts, also announced on the evening that three more Manchester businesses committed to becoming HideOut Youth Zone founder patrons, all choosing to donate £25k a year for four years – helping to ensure we deliver the best possible programme for thousands of young people across East Manchester.
We are always seeking the support of those who love Manchester and want to make a positive difference in the City, whose endorsement and generous support will truly help us change the lives of young people. To become one of HideOut's Founder Patrons please contact:
Jonathan Cobbold – Major Donor Development Manager, North
Jonathan.cobbold@onsideyouthzones.org
01204 362128