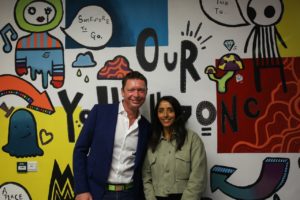 This Is Manchester Awards return for 2019 bolder than ever! Back for a second year the 2019 awards celebrate Greater Manchester's talent & influence across numerous sectors – Entertainment, Community & Commerce.

The Awards will support OnSide Youth Zones and in particular the build of HideOut Youth Zone, Manchester's second Youth Zone, opening in Gorton in 2020.
The inaugural This is Manchester Awards more than cemented their mark on the city. Attended by celebrities, sports stars and heads of business in 2018 the awards were a runaway success. Over 400 representatives from the world of fashion, leisure and technology all showed their support entering and supporting various categories to celebrate the best Greater Manchester has to offer.
By popular demand, organisers have opened the call for entries earlier this year – other new additions for the 2019 awards include a 'Property/ Developer of the Year' category to recognise those businesses, developments or individuals that are having a positive impact on the city's skyline or neighbourhoods and, an 'Emerging Talent' category, recognising a rising star rooted in the city, in any industry, who is championing Mancunian values at home and further afield.
Last Year's Supernova Award was presented to John Roberts, founder of AO.com. A true disrupter who built a business that went on to become one of the UK's leading online retailers, the company now international, employs 3000 people in the region. More importantly, the award recognised that John had chosen to use this platform to directly affect the futures of many thousands of children not only in the North West but across the UK. Chair of the Executive Board at OnSide, a charity which builds and develops Youth Zones in our communities. Levelling the playing field to give all kids somewhere exciting and inspiring to go, something to do and someone to talk to.
So inspired were the organisers by John's work, monies raised from the 2019 and any future awards has been pledged to support the latest central Manchester Youth Zone opening in
Gorton in 2020. In addition John has agreed to support This is Manchester Awards as an official ambassador.
Speaking about the 2018 award John Roberts said; "Winning the Supernova award was a huge surprise, hugely humbling and brilliant! We were in a room of such amazing company, and to be recognised for such an award by your peers was just fantastic. Really it should shine and reflect on everybody that is around me, both at OnSide with everything we are doing there and, at AO, I couldn't wish to work with better people."
On the importance of the awards; "Why enter the 'This is Manchester Awards'? Well for me, the answer is simple. In our region, we have amazing businesses and we have amazing talent and, we have a huge amount to celebrate. But, as is traditional with a 'bit of Northern grit, spit and determination', we don't want to talk about that! We want to be humble and quiet about it. Well that's not what this night is about, it's about celebrating Manchester and the surrounding area. To do that, everyone needs to step forward and to shine a light on your business, or another business to inspire others."
Nominations are open now until September 2019, for individuals and businesses across 13 categories (full list HERE and again are free to enter. The judging panel is once again chaired by Ged Doherty (Chairman of the British Phonographic Industry and BRIT Awards Limited and the co-founder of Raindog Films), A full list can be seen HERE.
This is Manchester Awards organiser Ziara Siddique, MD of Elite Profile Agency said; "We're excited to deliver a bigger and better awards. Overwhelmed by the strength of last year's nominations this year will shine a light on those businesses and individuals making a real difference across the region.
"We're also delighted to confirm our support to the OnSide Youth Zones as official patrons for the development under construction in Gorton."
For more information please visit www.thisismanchesterawards.com, email enquiries@thisismanchesterawards.com or telephone 0161 6670898.