On 22nd February, we had the amazing Steve Judge, a Professional Motivational Speaker, in the Youth Zone for our 'Be Inspired' event, where Steve empowered young people and adults to believe in themselves and achieve their GOLD.
At the age of 28, Steve had a devastating car accident which left him fighting to stay alive. Following life-saving operations, we was subsequently told that he may never walk again. With operations, treatment and care from the NHS, he was able to progress forward.
Steve focused on setting himself goals, turning his excuses into challenges and eventually, he learned to stand and walk again. His journey took him from a wheelchair to world champion in the sport paratriathlon.
Steve's mission is to share his story with others, empowering people to achieve their GOLD. He is passionate about everyone experiencing the happiness and fulfilment of achieving the life that they have imagined and truly deserve.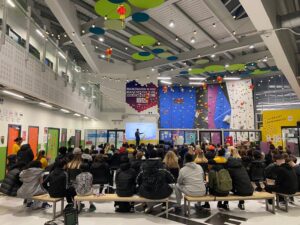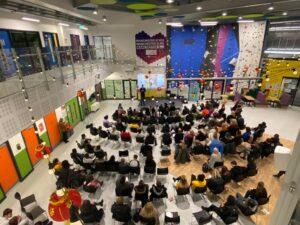 Steve shared his inspiring journey at HideOut Youth Zone and young people later took part in activities around the Youth Zone to encourage them to find their GOLD. As part of the activities, we asked the young people, 'What has Steve's talk inspired you to do?'
– 'If you fall, get back up!!'
– 'To focus on the future more rather than doubting myself for what happens in the past.'
– 'To keep pushing, even when times get hard.'
– 'I'm so glad I came here tonight, you've really helped me to see what I really want to do when I'm older.'
Steve Judge said:
What an amazing evening it was on Tuesday as I empowered adults and young people to believe in themselves and create their Golden Vision to achieve their GOLD. Their Goal, Their Opportunity, their Love and their Dream. HideOut Youth Zone has such strong synergy with my overall mission that it was an honour to share my story, tools, messages and even run a micro workshop at the end.
A massive thank you to Steve for coming down and telling his story, creating a powerful message: 'Don't lean on your excuses.'
You can find more information about Steve Judge here.