Paul Shannon demonstrates his support to HideOut Youth Zone with incredible Founder Patron pledge.
We are delighted to announce that Paul Shannon is the latest individual to sign up as a Founder Patron of HideOut Youth Zone.
Paul's incredible pledge of support further demonstrates his commitment to ensuring the young people of Manchester have somewhere to go, something to do and someone to talk to for years to come.
Paul, who is also the CEO of existing HideOut Founder Patrons, ANS, recently took part in the charities What Manchester Taught Me podcast series, in which he was interviewed by HideOut's young members. In the Podcast, Paul discussed the importance of supporting young people, his own career, role at ANS and top tips for a successful future.
Following his visit and podcast recording, Paul was inspired by the progress HideOut Youth Zone has made throughout its opening year, and the impact the charity is already having on the lives of over 3000 young Mancunians.
Paul reached out to HideOut directly and underlined his wish to sign up and become a Founder Patron in his own name. By becoming a Founder Patron, Paul has joined a special family of individuals and organisations who together ensure they provide a first-class offer for thousands of young people across the city.
We would like thank Paul for his fantastic support and also thank him for attending and speaking at our recent Founder Patrons Dinner about his pledge to HideOut.
Adam Farricker, HideOut CEO outlined "We are hugely grateful to Paul for coming on board as a Founder Patron in his own right. I am blown away by the support Paul provides for HideOut through his work at ANS and now as an individual. Pledges of consistent financial support like this are critical to the charities success and ensure that we can open our doors with a first-class offer"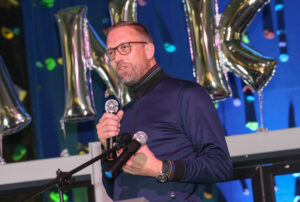 Paul Shannon said "I am immensely proud to pledge my commitment to support the HideOut Youth Zone. The work they do to improve the lives of young people in Manchester is incredible and I look forward to working with the team to make a difference in our community."