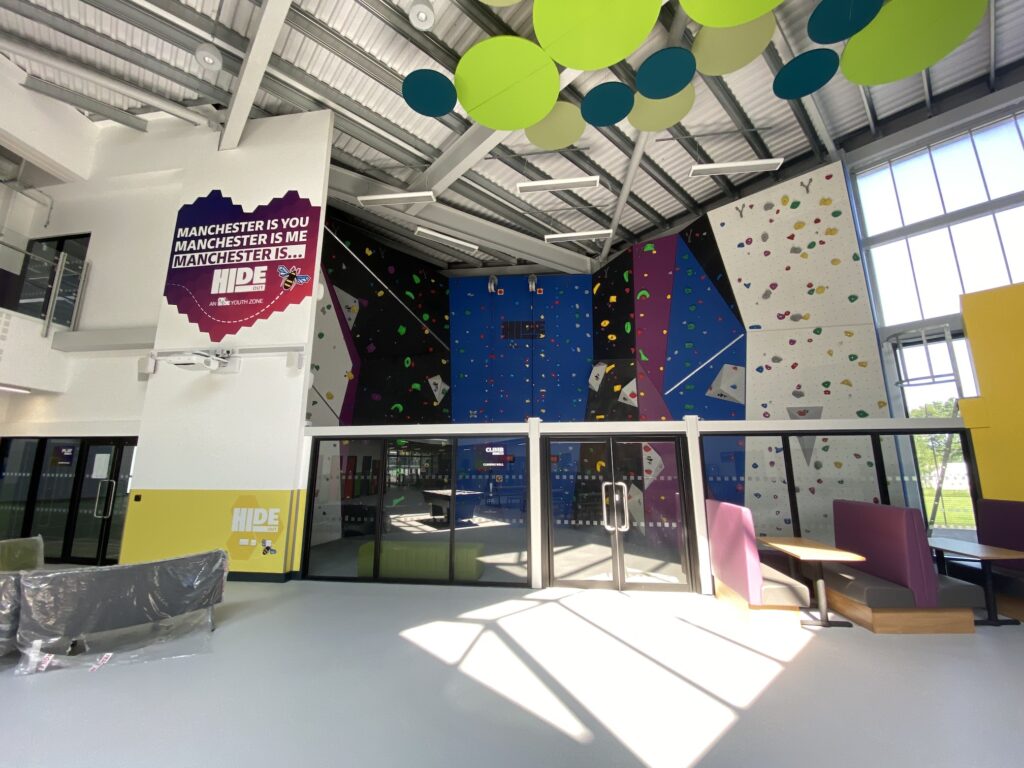 A new opening plan has been unveiled for the 'HideOut', East Manchester's new £6.6million OnSide Youth Zone.
Construction was recently completed on the state-of-the-art facility, which is located in on the border of Gorton and Longsight, Manchester. The Youth Zone had originally planned an official opening day celebration this Spring with hundreds of local young people expected to attend.
As plans for a Spring opening were put on hold due to the Covid-19 pandemic, the HideOut Youth Zone team is now developing new ways to engage young people and putting plans in place to open the centre to young people once possible, with new safety measures that adhere to government guidelines.
The HideOut Youth Zone team is now looking at new ways to engage young people and is putting plans in place to open the centre to young people as soon as possible, with new safety measures.
The Youth Zone's primary aim is to support young people with somewhere to go, something to do and someone to talk to, with open access youth provision for over 200 young people seven days of the week.
Facilities and activities include an indoor climbing wall, 3G kick pitch, skate park, music room with recording studio, arts and crafts studio, training kitchen, employability suite, four court sports hall, fully-equipped gym, dance and drama studio, media room, martial arts gym and much more. This will all be available to young people for just an £5 annual membership and 50p per visit.
While the Youth Zone's open access youth provision will sadly not be operational until it is safe to deliver and restrictions ease. The team has been hard at work putting together new plans which include building on the existing work with other youth and play partners as they adapt to support children and young people across Manchester.
Throughout lockdown, HideOut's youth work team has been working in partnership with the existing Youth Zone based in North Manchester to deliver activities and targeted youth work sessions for young people digitally, using social media and video communication platforms such as Zoom. Regular meetings have allowed young people to connect with youth workers and their peers online during lockdown, when many young people have been at risk of social isolation.
As restrictions lift, the youth work team will support more young people through detached work, complimenting existing work delivered by established youth work organisations M13 Youth Project, Levenshulme Youth Project and Anson Cabin.
Recruitment of approximately part-time youth work jobs will resume throughout June and July, to ensure the centre is able to open as soon as possible, providing young people a wide range of activities.
Adam Farricker, Chief Executive of HideOut Youth Zone said: "Although we are really disheartened that we cannot officially open HideOut Youth Zone to thousands of young people as originally planned, we are committed to supporting young people at a time when they need it most. While restrictions are still in place, our fantastic team of dedicated youth workers will continue to work with local partners and within the community and when we are able to, we cannot wait to open to thousands of young people from across Manchester."