HideOut Youth Zone announced as runners-up in Manchester City Council's 2022 Be Proud Awards under the 'Promoting Equality and Diversity' category.
On Friday 4th March, HideOut Youth Zone attended the annual Be Proud awards, hosted by Manchester City Council.
The youth zone, based in Gorton, was successful in becoming finalists in the 'Promoting Equality and Diversity' category, finishing runners-up to Javeno Mclean, creator of award-winning community gym, J7 Health Centre.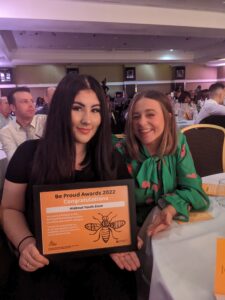 The Be Proud Awards are the city's celebration of the extraordinary volunteers and unsung local champions who make a real difference in communities across Manchester.
The Promoting Equality and Diversity category is an award that recognises initiatives that bring communities together, that celebrates demographic differences and acknowledge Manchester's diverse cultures and heritage.
HideOut Youth Zone is dedicated to supporting young people across Manchester by providing fantastic opportunities and offering support in a safe and secure environment.
Adam Farricker, CEO at HideOut Youth Zone, said:
"Our focus is ensuring young people have equal access to a range of positive opportunities, whatever their ability, gender, race, or other characteristics.

"I'm proud that the work we are doing to ensure young people feel valued has been recognised. We have a lot of untapped talent and potential within the centre and throughout our community; it's our responsibility to help these young people recognise their potential so they can thrive in the future."
HideOut Youth Zone, which opened its doors to the public in September 2020, welcomes a membership of over 4,000 young people (February 2022) from across Manchester, including 66% identifying as Black, Asian or from another ethnic minority background, 16% of those with additional needs, and 43% identified as girls.