Annually celebrated on the 1st of October and the 31st of October, HideOut's coordinators set up various activities whilst on session for the young people to learn, engage and celebrate the culture of Black History Month.
blackhistorymonth.org.uk have some great resources to use to learn more about Black History Month in every aspect of education, pulled from their website they explain how the resources can be used:
Reflecting the diversity of schools across the country, we have chosen to use a range of lesson plan formats to mirror this difference, and to provide more schools with an opportunity of an immediate point of familiarity, which will enable some schools to teach these lessons without further modification.
Subjects covered in the pack will include Black History in Art, Classics, Criminal Justice, Drama, English, French, History, Math's, Music, P.E (Physical Education), R.E (Religious Education)/ Citizenship / PSHE, Science, Spanish, World War I & World War II. Find out more, here.
For the first week of Black History Month our members in collaboration with the youth work team created this vibrant celebratory piece of art: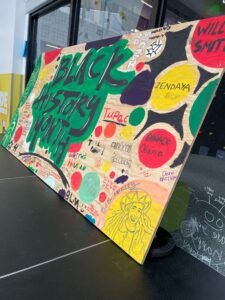 Jerrell Barnwell, Creative Arts Coordinator had this to say about the Black History Month Board:
This incredible piece of art was created over 3 days in our Senior Club sessions. The art aims to create conversation about black history and the impact they had on the world.
If you want to see the board in more detail, see here.
On Saturday the 18th of October, we celebrated #BlackHistoryMonth in style!
Our members took part in different activities around the Youth Zone, including cooking & singing! A big thank you to ARMR Store for delivering a masterclass in cooking healthy, plant-based Caribbean food!