On Saturday 5th June, Senior members from HideOut Youth Zone took to The Bruntwood Stage at the Homeground Festival, in collaboration with Manchester Camerata, to showcase their talents and provide live performances in rapping, singing, dancing and spoken word.
Homeground is a brand new outdoor venue, providing a safe and fun place to enjoy the best of Manchester's arts and culture over the summer. From 28th May – 26th August, HideOut's Founder Patron's, Bruntwood, are supporting Homeground through sponsoring the Bruntwood Stage, with a range of shows from DJs to local artists.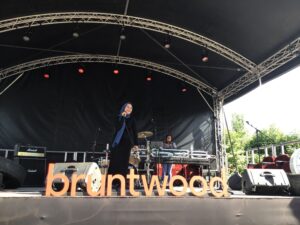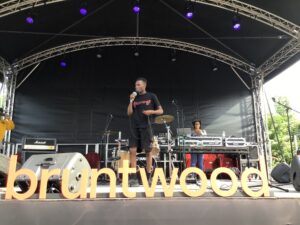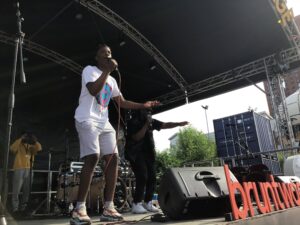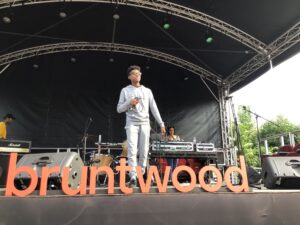 David, one of our vocal performers, also known as Pantha, said:
'I've just performed at Homeground and I found it good. It was a different experience and a starter for the future, let's just say."
Shanay, our DJ, also known as DJ Nay, said:
"I've just performed at the Homeground festival and I feel like I did well and I feel more confident in myself in DJing live."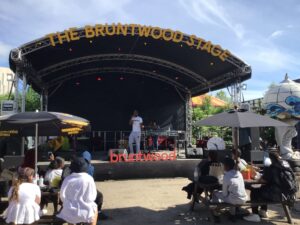 HOME's Communities Programme is ensuring that as many people as possible are given the opportunity of performing on the stages, or being part of the audience, through connecting with groups, charities and voluntary organisations across Greater Manchester.
A massive thank you to Manchester Camerata, a local charity working and performing in Manchester, for helping to bring the Gorton community together and giving HideOut the opportunity to perform.
Lizzie Hoskin, Head of Community at Manchester Camerata, said:
'My team and I were all blown away by the outstanding talent of the group from HideOut that performed on the Bruntwood stage as part of the Homeground festival on Saturday afternoon. We all loved their enthusiasm and incredible energy, and the staff organising the event were top class too! We can't wait to work with all the brilliant performers at HideOut Youth Zone again soon.'
More information on Homeground can be found here and we would recommend a visit this summer.