BBC North West visits HideOut Youth Zone to interview young people about the value of Youth Work and the need for more funding.
NYA figures show that youth service spending across the country dropped from £1.2bn in 2010-11 to £379m in 2020-21. Spending per young person in the North West has fallen from £287.03 to £86.32 in the same period.
All areas of the region have seen cuts, yet young people who are using the remaining services say they have a big impact. Fifteen-year-old Aliyah is a regular at HideOut Youth Zone and has begun volunteering on sessions, whilst gaining climbing and leadership qualifications.
She said she did not know what she would "be doing if it wasn't for this place."
I don't think I'd be as confident as I am now. I cared a lot about what people think and what people thought of me, but now I just do what I want to do.
Sixteen-year-olds Brayden and Shanay and Alissia, 14, are also regulars.
Alissia said the staff at HideOut Youth Zone are very supportive, while Shanay said it has helped her come out of herself, as "my confidence has increased and I'm just me".
Brayden said the centre has given him new opportunities.
When I first thought about the idea of a Youth Zone, I thought 'it seems a bit childish', but when you actually start doing it, it's really good for your mental health, getting out and doing exercise.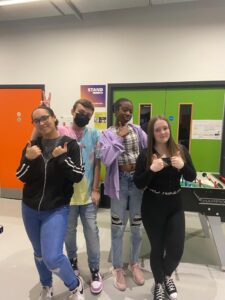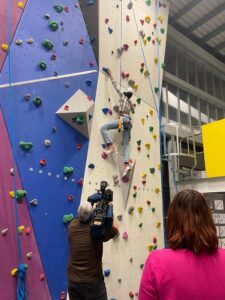 Youth Worker Joe Amos said he showed exactly how well it worked.
I grew up half a mile down the road from where this centre is, I'm a product of youth work myself, I got involved in youth work when I was 13 and I'm in my 30s now. It's great to give back to the local community.