Founder Patron, AO, delivered 240 Easter Eggs to HideOut's young people.
This Easter, HideOut Youth Zone celebrated with Founder Patron, AO, who kindly hand-delivered over 240 Easter Eggs for our young people.
The Customer Experience team at the Bolton-based retailer spent the weekend collecting the gifts before they were dropped off on Monday 18th April.
Smashing last year's collection of 200 eggs, the donation ensured that HideOut's members received a chocolate treat.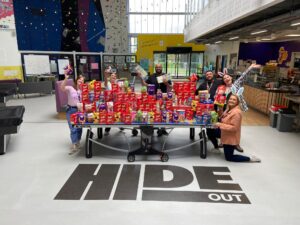 CEO of HideOut Youth Zone, Adam Farricker, said:
"We're really grateful for the donation by AO, and it really did put a smile on our young people's faces. We want to thank them for their continued support since our partnership began back in 2020.

"Founder Patrons are the key to the success of HideOut Youth Zone. We're very lucky that our Founder Patrons are so involved with our young people and invested in their happiness and development".
Engagement Manager at AO, Sophie Dutton said:
"As a Founder Patron of the HideOut Youth Zone, AO shares the charity's passion for improving the life chances of young people from disadvantaged backgrounds. After a walk around the Youth Zone, we were extremely impressed by the hard-work and dedication that goes into inspiring their visitors, and we are proud to offer our support however we can."
Founder Patrons of HideOut Youth Zone are a group of individuals and companies united by a determination to give young people across Manchester somewhere to go, something to do and someone to talk to.
HideOut's Patrons' contributions combine to create circa 60% of annual running costs, as well as consistent support to provide excellent services and opportunities for Manchester's young people.