Become a volunteer & make a difference…
We really believe in the value and power of volunteering. Our volunteers are integral to our success and truly are part of the team. They are at the heart of what we offer to young people – that's why a culture of volunteering and an enhanced volunteering programme has been embedded into HideOut Youth Zone since we opened in 2020!
Our passionate volunteers generously give their time to support and make a positive difference to the lives of young people across the country. The diversity of their backgrounds means they bring a wide range of skills, experiences, ability and interests.
Every one of our volunteers strengthen us as a charity at the forefront of exceptional youth work. We couldn't exist without our volunteers, and we wouldn't want to either!
HideOut Youth Zone is open 7 days a week, there's sure to be a time that suits you!
Our volunteers come from all walks of life, and have a huge range of life experience. Our young people benefit from interaction and support from our volunteer team, and we couldn't provide our first-class youth provision without them.
Our mission is to create truly meaningful, well supported volunteer roles that directly or indirectly enrich the lives of young people. We want every volunteer to know how their contribution is creating real change for the young people and their communities. We have a role to suit everyone – whether you can give a day a week, a few hours a fortnight or an afternoon once a month, there will be a role that fits your schedule.
We're committed to the safeguarding of young people, and giving volunteers the support they need. In accordance with our Child Protection and Safeguarding procedures, all volunteering opportunities require an Enhanced DBS check, and all our volunteers are fully trained, with support on hand whenever it's needed.
As a charity, we need your support to make this happen for Manchester's young people.
If you'd like to meet new people, learn new skills, have fun and most importantly, make a huge difference to your community, then please consider giving a little of your spare time to support local young people.
We look forward to welcoming you to the team! 
Click here to register your interest in becoming a volunteer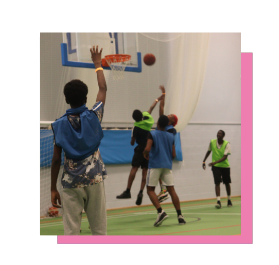 Whilst you'll want to make a real difference when you volunteer, it's not just about what you can do for others.
Here are some of the things that volunteering can do for you:
GET BACK INTO WORK
It's a great way to get a reference and fill gaps in your work experience. You can also try out different types of work to get a taster – which can really help you if you're looking for a job or want to change direction.
IMPROVE YOUR CONFIDENCE
You'll learn and do things that you might not normally get the chance to – this can be a real confidence boost.
MEET NEW PEOPLE
You'll probably meet people from different cultures and backgrounds that you might not normally. Volunteering with people who are as passionate about improving the opportunities for you people, as you are, is a great way to meet like-minded people.
GIVE YOUR CV A BOOST
Time Bank recently did a survey of some of the UK's leading businesses and 73%* said they'd employ someone who's volunteered over someone who hasn't.