Become a volunteer & make a difference…
Are you looking for a fun and rewarding way to give back to your community?
HideOut Youth Zone is a brand-new charity which provides thousands of young people from across Manchester with somewhere to go, something to do and someone to talk to.
Open 7 days a week, offering over 20 activities every night, HideOut aims to support young people to lead healthier, happier, more aspirational lives.
As a charity, we need your support to make this happen for Manchester's young people.
If you'd like to meet new people, learn new skills, have fun and most importantly, make a huge difference to your community, then please consider giving a little of your spare time to support local young people. We look forward to welcoming you to the team!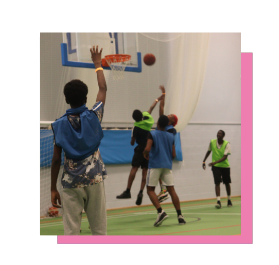 We are recruiting for volunteers in the following areas:
• Youth Worker

• Holiday Club Youth Worker

• Football Coach

• Arts & Crafts Worker

• Climbing Instructor
• Enterprise Worker

• Kitchen Assistant

• Music Worker

• Media Worker

• Performing Arts Worker
• Sports Youth Worker

• Reception/Admin Assistant

• Fitness Instructor

• Gym Instructor

• Boxing Instructor
Whilst you'll want to make a real difference when you volunteer, it's not just about what you can do for others.
Here are some of the things that volunteering can do for you:
GET BACK INTO WORK
It's a great way to get a reference and fill gaps in your work experience. You can also try out different types of work to get a taster – which can really help you if you're looking for a job or want to change direction.
IMPROVE YOUR CONFIDENCE
You'll learn and do things that you might not normally get the chance to – this can be a real confidence boost.
MEET NEW PEOPLE
You'll probably meet people from different cultures and backgrounds that you might not normally. Volunteering with people who are as passionate about improving the opportunities for you people, as you are, is a great way to meet like-minded people.
GIVE YOUR CV A BOOST
Time Bank recently did a survey of some of the UK's leading businesses and 73%* said they'd employ someone who's volunteered over someone who hasn't.