Raheem Sterling's Broadcast Academy
Raheem Sterling Foundation and sports broadcaster talkSPORT have partnered with HideOut Youth Zone to launch a brand-new Broadcast Academy in Manchester.
The Broadcast Academy will give young people skills and knowledge in recording and broadcast, and also an insight into the range of job opportunities available in sports media. Successful applications will even interview Raheem himself and speak to several well-known sporting personalities.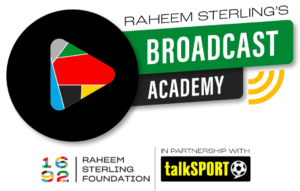 Who can get involved?
We're looking for six young people to take part in the project:
What does the Raheem Sterling Broadcast Academy include?
Raheem Sterling's Broadcasting Academy is looking for a commitment from those who have been chosen to take part in the project. It will be an eight month commitment.
| | |
| --- | --- |
| Monday 14th November 2022 | Session 1: Introduction to programme. |
| Tuesday 17th January 2023 | Session 2: Continuation of podcast editing/Talent Talk |
| Monday 20th March 2023 | Session 3: Copyright/Brief insight into media Law/Talent Talk |
| Monday 16th May | Session 4: Podcast finalisation/Wrap up |
| June (Date TBC) | Session 5: Sports Awards & Newsroom Tour |
How do I submit a video application?
If you want to submit your application via video, you can do so by sending your content to comms@hideoutyouthzone.org.
You can:
attach to an email directly (if the video is small enough to be attached)
or
Send via WeTransfer (www.wetransfer.com). Upload your files, enter your email address, the email of the recipient and the WeTransfer verification code and your files will be sent. The recipient will receive an email message with a link that will allow them to download the files you've sent.
APPLY NOW
If you are interested in Raheem Sterling's Broadcasting Academy, you will need to apply to be part of the project.
All applicants will be judged blind based on their answers. However, if you want to showcase your skills, you can submit a video to comms@hideoutyouthzone.org
Please fill in the form below to apply. Applications close on Sunday 6th November (11:59PM):