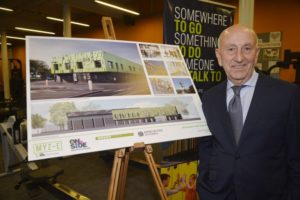 Fred Done has made a personal donation of £6million to create a brand-new Youth Zone in East Manchester.
Born and raised in Salford, the self-made businessman's generous pledge to support thousands of local young people was revealed at an event today.
Fred, who has significant business interests across the UK and in the Northwest was inspired to develop a Youth Zone to support young people in East Manchester, after seeing first-hand the difference Wigan Youth Zone has made to local young people, the positive effects of which have rippled through the wider community.
After much consideration, Fred has chosen to come forward publicly to reveal his gift to the young people of Manchester, in the hope others will join in him in support of this transformational new charity.
Due to open in Gorton in 2020, the state-of-the-art Youth Zone will provide those aged 8-19, or up to 25 for those with additional needs, with access to top quality facilities and services, 7 days a week.
The Youth Zone is being delivered in partnership with Manchester City Council which has contributed £1.5 million capital funding towards the building's construction and will provide additional funding to support running costs.
East Manchester Youth Zone becomes the latest community hub for national charity OnSide Youth Zones, which has already created a network of ten Youth Zones across the country since it was established in 2008.
The new Youth Zone is to be built on the former Gorton baths site at the corner of Hyde Road and Queensland Road with construction due to start in Spring 2019.
It will include an indoor climbing wall, 3G kick pitch, fully equipped gym, four court sports hall, a dance and drama studio, training kitchen, arts and crafts studio and much more – all available to young people for just 50p per visit.
Working alongside the business community and local organisations, the Youth Zone will also support young people into education, employment or training through employability and enterprise workshops.